Next week I will be writing this from Bend Oregon and will be playing a spot on Friday 17th Sept at a Pirate's Party with 5-Pint Mary -what is it with Oregon and pirates :) that'll be a lot of fun... Savvy!
I now have a tour manager! Michelle Rupp - originally from the Orkney Islands of Scotland - and a good friend who now lives in Beaverton, Oregon. Michelle has my tour plan in hand and will be arranging bookings for me as I travel through the states. Michelle is a keen music lover, proud Scot, a good supporter of me and my music...and (very important when chasing bookings) - persistant (she was a debt collector in a previous life)!
I started capturing video clips for my blog post (which is not ready yet) it'll be a good one - promise - when I eventually get it put together.
I'll leave you with a sample of life on the road - this is where I wrote this newsletter this morning - in the lobby of the paramount hotel after playing some tunes Wednesday evening for Chris Hatzi's birthday.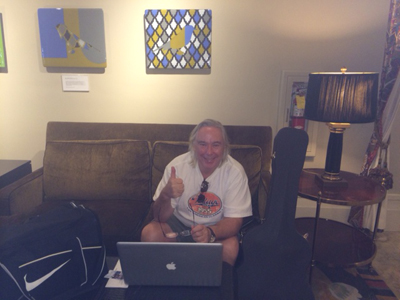 Cheers,
Bill