Bill is still in Florida for the Summer - no travel this year
No gigs until October - Next Livestreams :
August 9th 2020
... be sure and let me know online that you've joined the livestream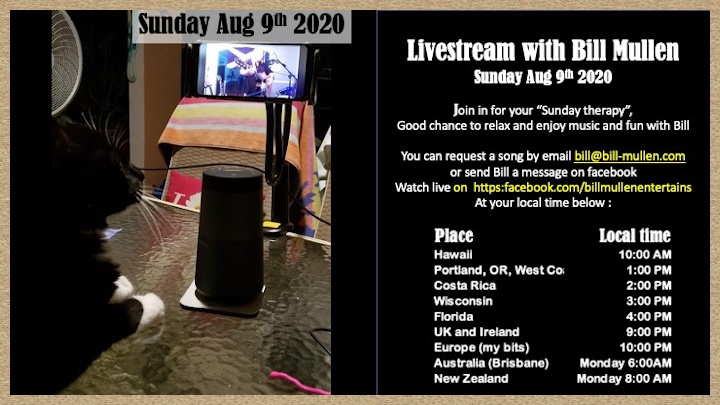 ... and then it's Sunday August 16th 2020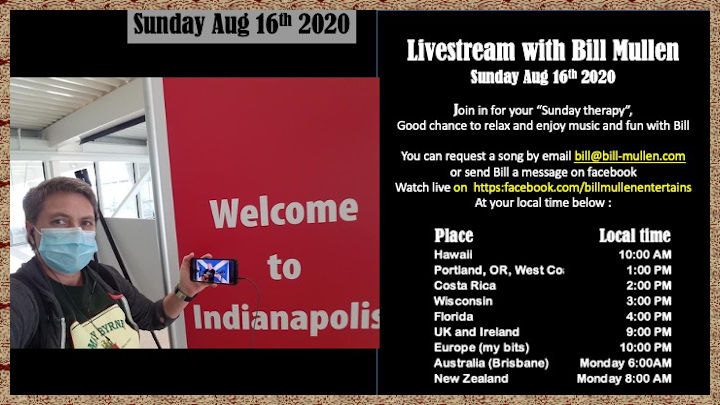 Here are my next Performances :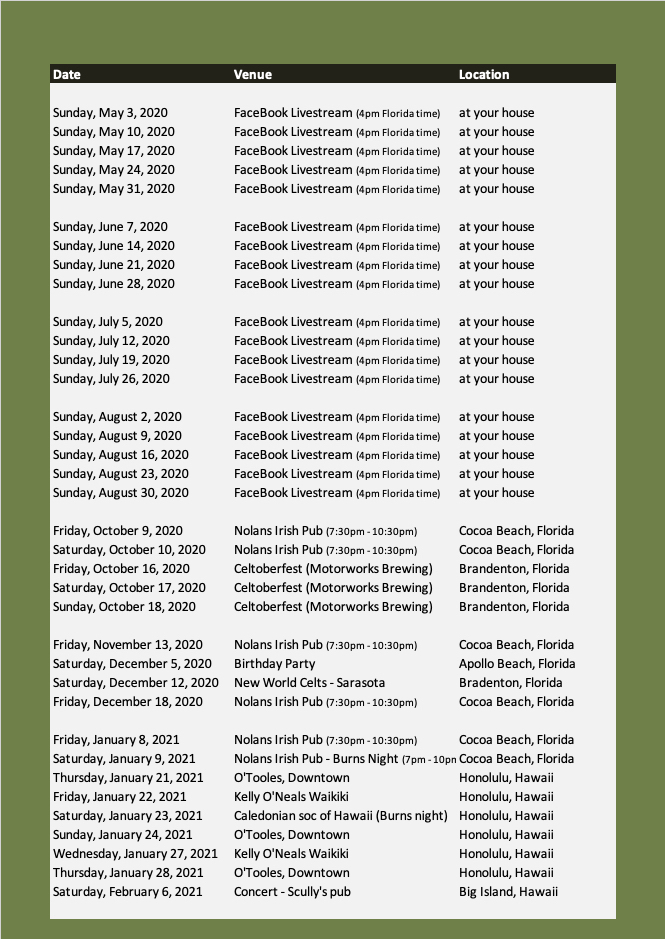 Now - a look back at previous Gigs :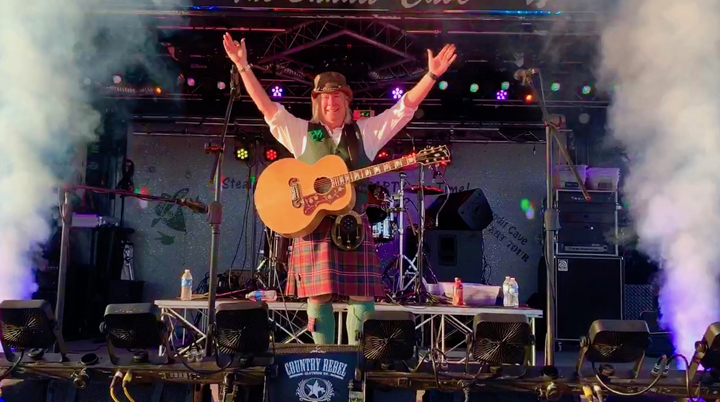 Click the image to see Bill's 20th lockdown Livestream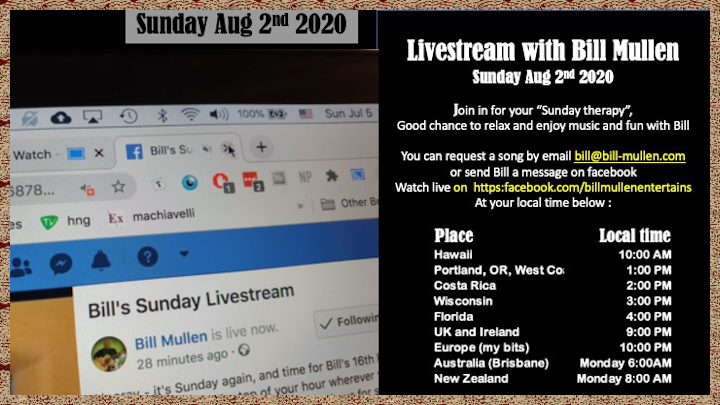 Click the image to see Bill's 19th lockdown Livestream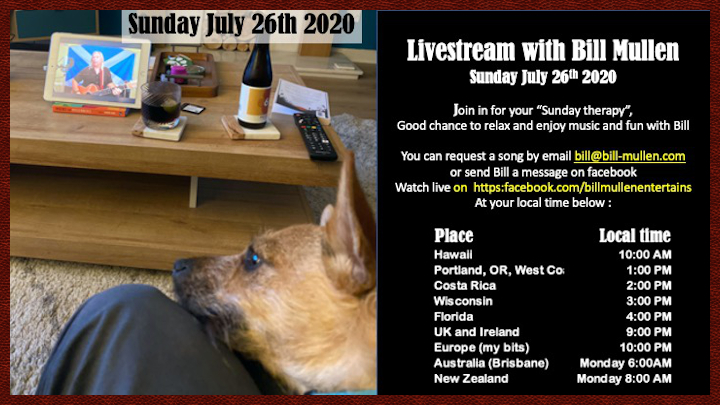 Click the image to see Bill's 18th lockdown Livestream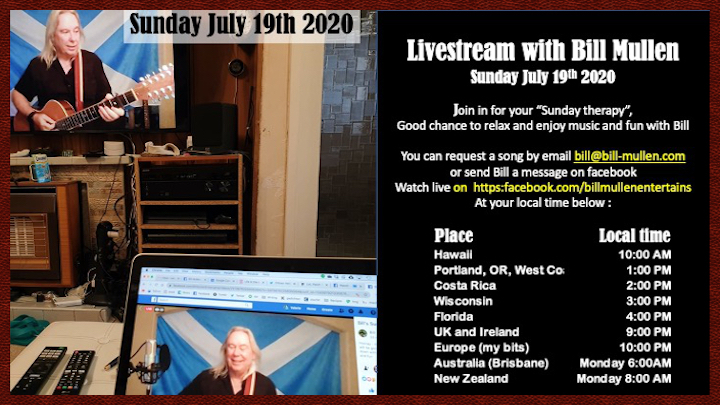 Click the image to see Bill's 17th lockdown Livestream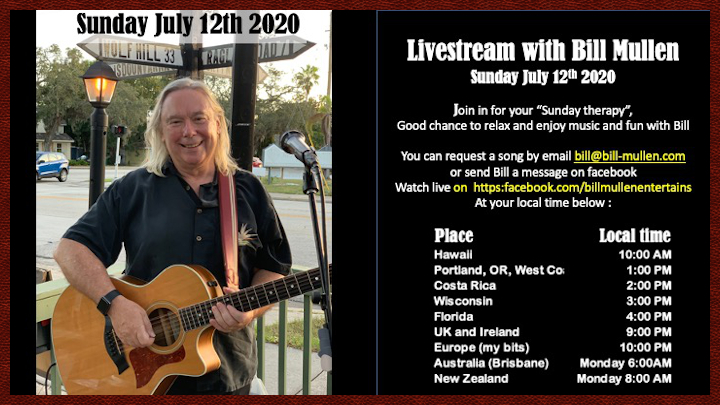 Click the image to see Bill's 16th lockdown Livestream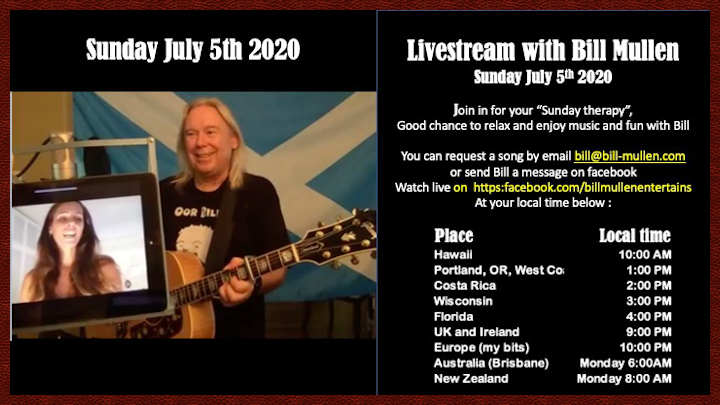 Click the image to see Bill's 15th lockdown Livestream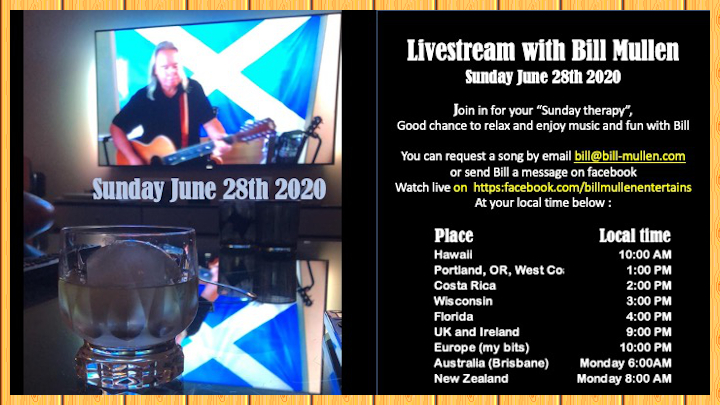 Click the image to see Bill's 14th lockdown Livestream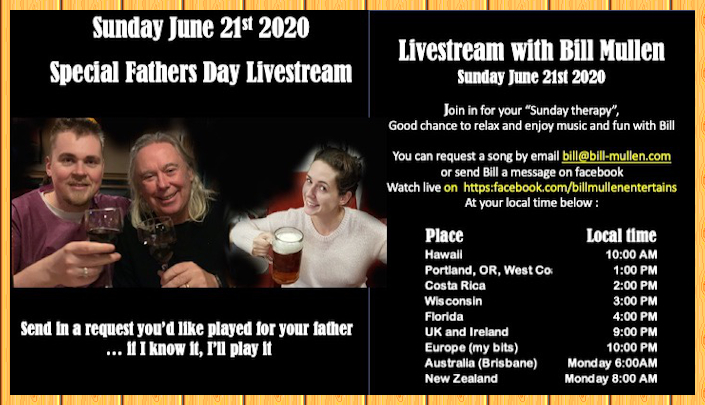 Click the image to see Bill's 13th lockdown Livestream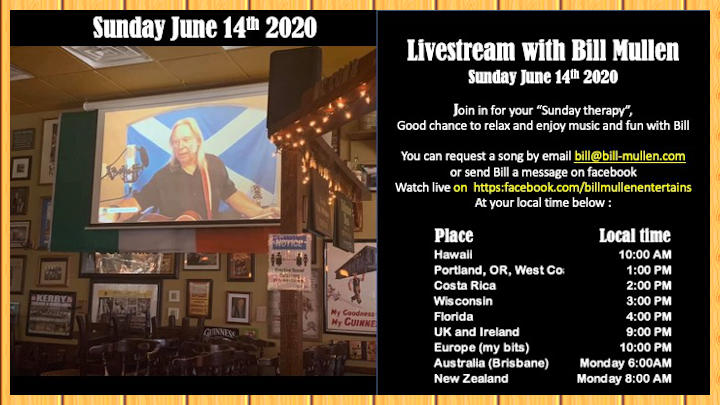 Click the image to see Bill's 12th lockdown Livestream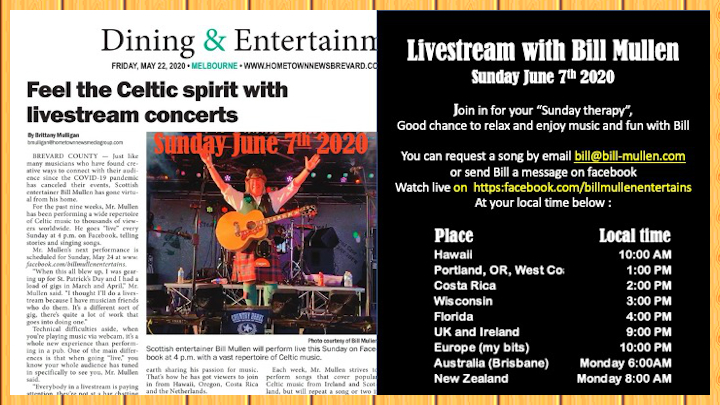 Click the image to see Bill's 11th lockdown Livestream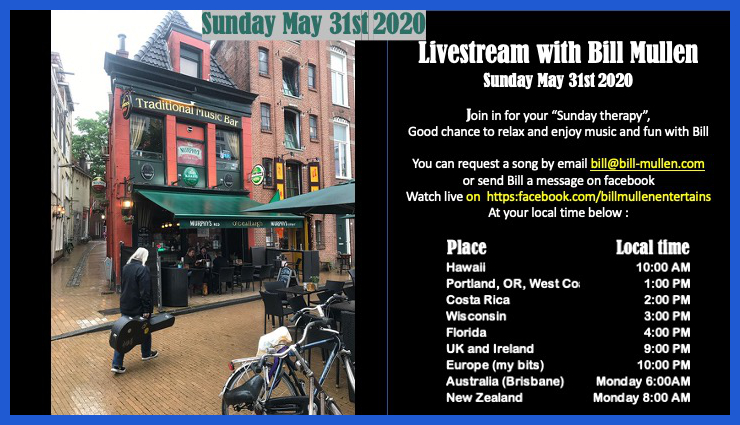 Click the image to see Bill's 10th lockdown Livestream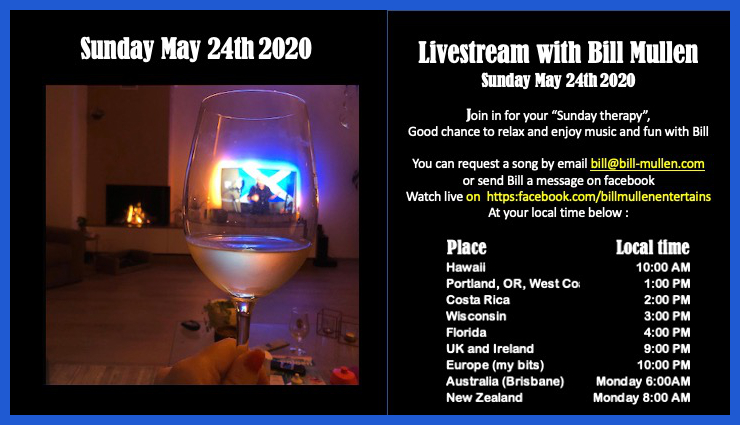 Click the image to see Bill's 9th lockdown Livestream
Click the image to see Bill's 8th lockdown Livestream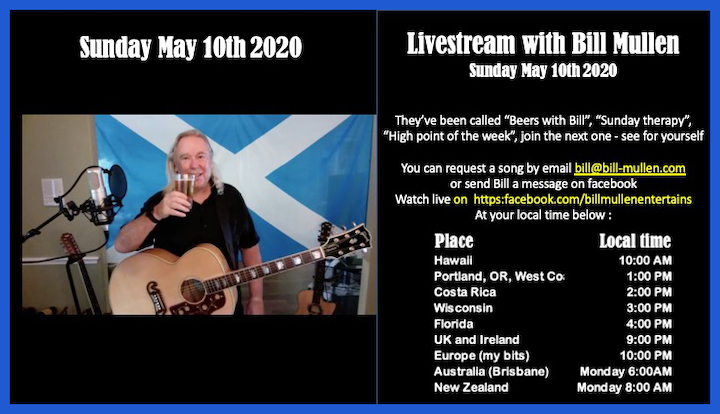 Click the image to see Bill's 7th lockdown Livestream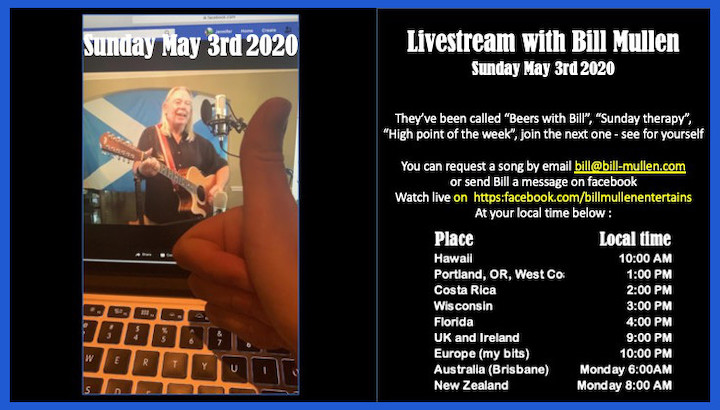 Click the image to see Bill's 6th lockdown Livestream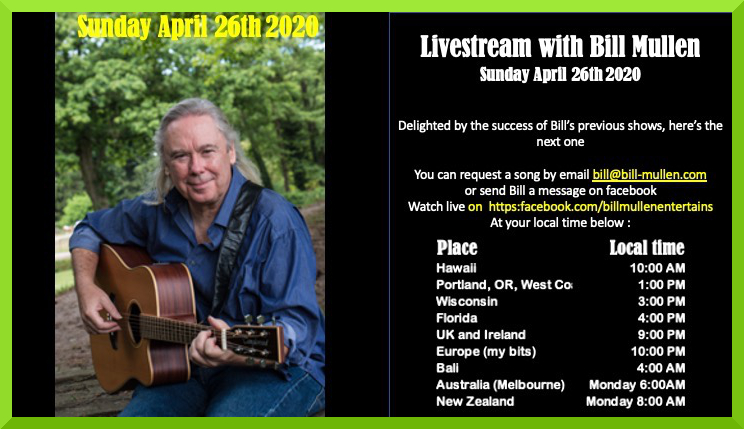 Click the image to see Bill's 5th lockdown Livestream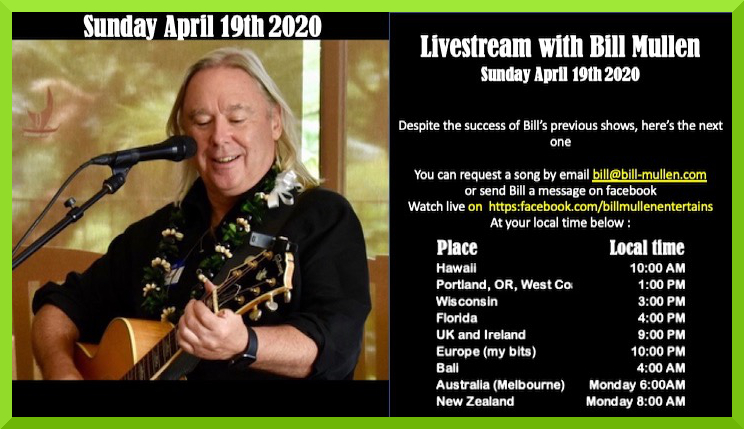 Click the image to see Bill's 4th lockdown Livestream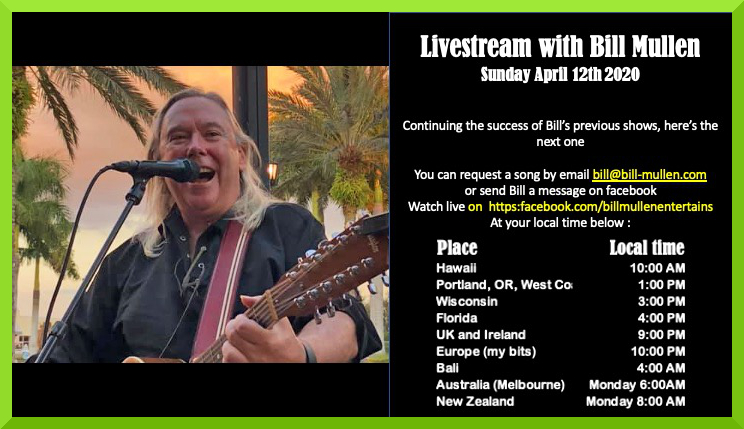 Click the image to see Bill's 3rd lockdown Livestream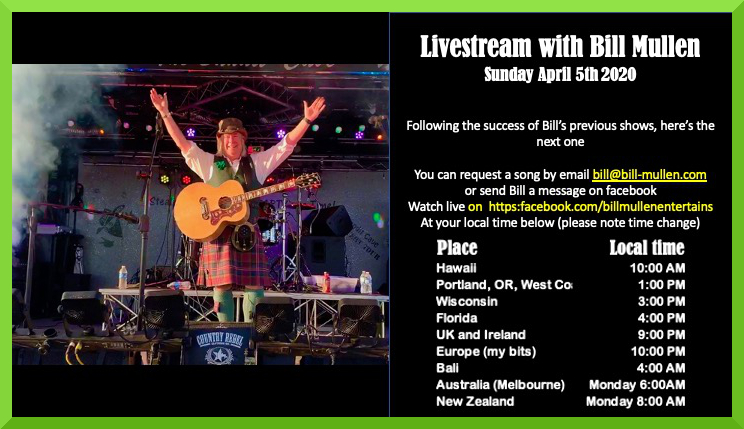 Click the image to see Bill's 2nd lockdown Livestream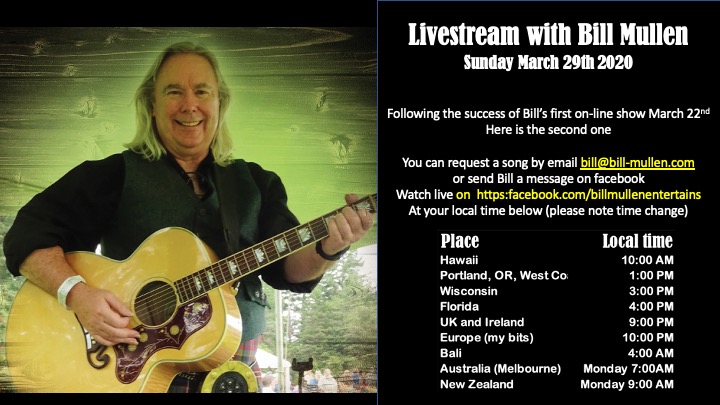 Click the image to see Bill's 1st lockdown Livestream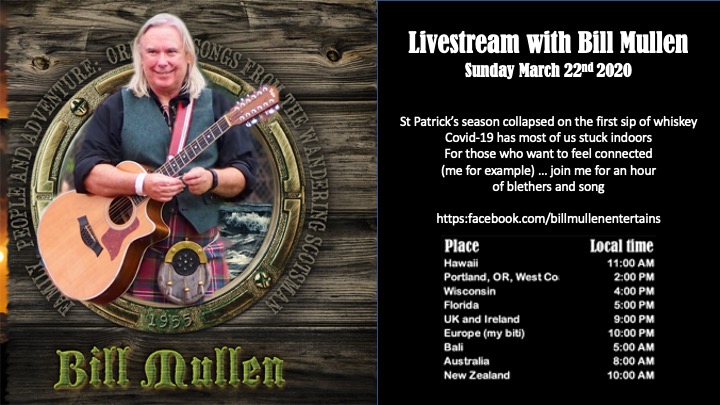 Saturday February 1st 2020, Celtic Ray, Punta Gorda, FL. The start of the leap-month already. We had a visit from Tanya, a friend from Vancouver, Washington, and we arrived in a cold, wet Punta Gorda. After much deliberation, it was decided that the gods would eventually cooperate with us and I should play outside on the patio. It was very busy inside the pub and a few brave souls ventured outside when they heard the music. I had people arrive just to see me, they came prepared with rain jackets! As it tuned out, the sun did shine a few times, the temperature did rise and the patio filled up with people who were sad when I finished, so they got an encore. A pint of Guinness and a plate of delicious fish and chips (with soda bread) and we were off home ... a nice afternoon out.
Saturday January 25th 2020, Nolans Irish pub, Cocoa Beach, FL - Burns Night, the celebration of Scotlands national poet ... and a really popular tradition I started in Nolans six years ago. We had a Florida Haggis, piped in by Ceallagh Donnachaidh, I did "to a haggis" and "the immortal memory"", then we had members of the Celtic / Nordic society read Burns poems and do the address to the Lassies and reply to the Laddies. Hilarious. I played Scottish songs in between all that and we ended up with a fantastic rendition of my dad's favourite Burns poem "Tam O'Shanter" by Dorothy with an accompanying slide show, then we all joined hands in a great big circle and sang Auld Lang Syne. It was another wonderful Burns night.
Friday January 24th 2020, Nolans Irish Pub, Cocoa Beach, FL. A busy night from the start which just kept on going, great to see some regular faces returning from up North to enjoy the winter sun ... and a great pint of Guinness at Nolans. I tried my best to play a fully Irish night, the odd Scots one did slip in however - I was trying to save my Scots material for the following day... Burns Night
Saturday January 18th 2020, Four Green Fields, Curtis Hixon Park, Tampa, Fl. A real cultural experience tonight. The whole park ground next to the pub was cordoned off, tents and stages were set up and the place was buzzing for the African American cultural celebration... and boy, the crowds had turned out in force. We managed to get unloaded (with difficulty) at the other side of the pub, got into the Four Green fields... and woah...it was quiet! I've never seen so few people there. It was of course difficult to access because of the festival, but you could get in if you persevered (and knew where you were going). When I started at 7pm, it had filled up a bit and those who were there were enjoying and participating. Then the festival next door was going full blast and the queue for the toilet block next to the Four Green Fields was huge!! Festival goers started coming into the pub to use the rest rooms there (it has six nice individual unisex ones in a corridor at the side of the stage where I was playing). Within no time, there was a queue of very happy African American people singing, dancing and joining in while waiting - the whole pub, which by this time was quite busy, was enjoying the scene. We had a lot of fun, the queueing folks really enjoyed the music- It was a pleasure to play for them - we had a party. Some folks stayed around with us rather than go back to the festival. What a great experience!
Friday January 17th 2020, Four Green Fields, Platt St, Tampa, FL. A quiet start building up to the swinging typical Friday night in Four Green Fields. Great to see old friends and return music fans, the night flew and we had fun helping it fly!
Monday January 13th at Celtic Ray in Punta Gorda, FL. A real summers evening down in Punta Gorda, the patio was busy, people were singing in a great mood - everyone wearing Celtic Ray T-Shirts (2nd pint free if you wear your Celtic Ray T-shirt), a brilliant night, you'd think it was the weekend
Friday and Saturday Jan 3rd & 4th 2020 Meehans, St Augustine, FL. A great way to start the new year amongst the nights of lights festival where Meehans shines out above the rest (well actually 2nd this year, 1st last year). As usual the pub flows through the evening, Friday, a warm evening where people were spread out over the pub and Saturday which was cooler and drove people together crowding into my musical cocoon. A happy night with lots of people enjoying the winter in the heat
Saturday December 21st 2019 Four Green Fields, Tampa, Florida - my last show of the year. The pub was swinging, Bill, he was singing, so was the corner and they danced through the night... A great way to finish up my playing year, great people in a great pub enjoying the music and having a great time - that's what it's all about! Merry Christmas and Happy New Year to everyone.
Saturday December 21st 2019 Four Green Fields, Tampa, Florida - my last show of the year. The pub was swinging, Bill, he was singing, so was the corner and they danced through the night... A great way to finish up my playing year, great people in a great pub enjoying the music and having a great time - that's what it's all about! Merry Christmas and Happy New Year to everyone.
Friday and Saturday December 13th & 14th 2019 - a great weekend at Nolans Irish pub, Cocoa Beach, Florida. Both evenings were very good - typical of Nolans, a friendly Irish pub atmosphere, people joining in the singing, clapping and having fun together. I was joined on stage by Steve Harper - a year ago we sand "Jean" together for his wife, this year, we did it again. Great to meet up with regulars who have become friends and people who remember me from the last time they were in. A fine weekend of music and enjoyment
I talk about the Dec 6,7 & 8 shows below - and they went great... miraculously! What a weekend, I woke each day up sounding like Lee Marvin and (unlike Lee) not able to sing a note... head steaming, Vocalzone pastiles, throat coat tea, halls mentholyptus ... and of course a gargle or two of Lagavulin 16 year old... I made it (and special thanks to Dorothy facilitating the process (except the Lagavulin)) I made it through three three hour shows... and really enjoyed them all. I even got compliments on how I was sounding (which was a tone lower than normal 😁)
Sunday December 8th 2019... The New World Celts Brandon, Florida - Christmas party in the Strandhill Public, Brandon, Florida - another private event - my 1st with NWC Brandon, but I don't think my last - we got on great and had a lot of fun on the sunny patio, the pub is fairly new and is excellent. Great beer (they also have some local brews from Motorworks ) really delicious food and very friendly owners with two happy girls who really enjoyed the music. A very happy end to the weekends performances
Saturday December 7th 2019... The New World Celts Sarasota, Florida - Christmas party - a private event with people I have come to know quite well from the various NWC events - we had singing along, guest singers and Kim (the hostess) played her fiddle ... it was a hoot! Great time with great people!
Friday December 6th 2019... The Cottage, Melbourne, Florida. A warm sunny evening - no rain, the gig was on and the show went great. I had a great crowd in a happy Christmas mood - quite a number stayed right to the end and clearly had a great time.
Sunday December 1st 2019... Celtic Ray, Punta Gorda, Florida. A hot, sunny day, my 1st time on the patio this season as the weather has cooled down enough to enjoy an afternoon without air conditioning. The snowbirds have also arrived from up North, they were certainly happy to be avoiding the storms at home. One such person, AJ Benoit has also dropped down south for the Winter. He is a popular Canadian entertainer and singer. We got together a few weeks ago and got a few songs ready to play together. AJ has a wonderful voice - his guest spot was very well received. We had a fine afternoon.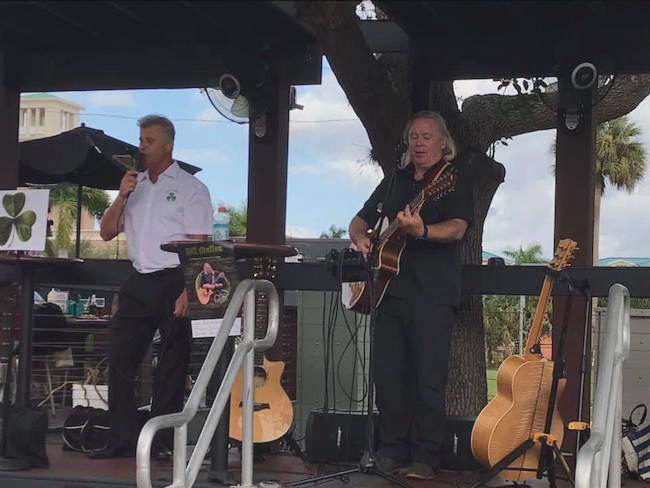 Friday and Saturday November 22nd & 23rd 2019... Meehans Irish pub in St Augustin, Florida. A great weekend, Friday at 9pm, the place was quiet, the outside tables were busy as it was a pleasant warm evening, I started and folks just drifted in. I felt like the pied piper. Soon we had the atmosphere built up as more and more people became Irish or Scottish for an evening and started joining in clapping and singing. By midnight we were well ready for home then bed! Saturday was an afternoon show. It started quiet, but again in they came - it was great to see our friends Gilli and Brad again, we were re-united at the Celtoberfest where they were running their craft stand of lovely carved goods. Getting out of ST Augustine was sticky as people poured into town for the "Nights of Light" start - where Meehans won last years display... The whole town is beautifully decorated with lights... fortunately they'll still be on when I'm back Jan 2nd & 3rd - getting home by 8:15pm was a real treat on a gig night!
Saturday November 16th 2019... Flanagans, Dunedin, Florida. It was a very good gig, the owner, Jason got up and played a few songs (he loved my guitar), we had a visit from a wee band of pipers and a drummer and dancer... and a tip bucket. They were great. Great crowd, got into my music and had a lot of fun. Which is just as well as it was a drama getting there. Dorothy had hurt her knee in Wisconsin, so when she went to drive our truck around to the front of our house to make it easier for us to load, the truck was as dead as a doornail. I had just bought a super-dooper new jump starter, I thought "nae bather, thistle get ye started!!" ... nope, no sign of life. Phone the car rental in town... closed. Neighbours... gone for the weekend. I have a wee 2-seater sports car for puddling about in, ok, lets see what we can fit in there. I got my gig bag, stands and my monitor amp in but Dorothy had to sit with my guitar crammed in front of her in the passenger seat while I drove... it's a stick-shift, so Dorothy couldn't drive especially if the traffic was bad and she needed to use her left leg for the clutch a lot. When we got to Dunedin, it was in the middle of an Art fair with the roads blocked off all round Flanagans, so fortunately with only one guitar and a couple of bags and stands, it was an easy, though long carry to the pub. I wasn't looking forward to the journey home ... and then in the 2nd half of my show in walk my neighbours Ray and Raelyn! they were on their maiden voyage of their camping trailer and were outside Dunedin to see the Saints (Louisianna) versus the Tampa Bay Buccaneers (the saints won - they were delighted, they are from Louisianna). Ray, always my hero, volunteered to take my stuff back for me - woo-hoo!! alls well that ends well!!
Saturday November 9th 2019... The House of Guinness, Waukesha, WI. Despite cold, snow and ice, I had a great lively crowd of folks who were definitely there to have fun... and we had plenty. The pub continues to improve, since Keith and his brother-in-law Ian became owners. It's busy, friendly and the folks were all joining in, singing and clapping. The time flew by ... and the Belhaven Scottish beer was absolutely delicious! This place is certainly a buzzing destination in the birthplace of Les Paul whose iconic Gibson guitar is featured all through the town.
Saturday November 15th 2019... The Cottage, Melbourne, Florida. Sadly, rained off - the great thing about the pub is it's fantastic outdoor patio... the big drawback is also that when it rains, there's nowhere to play... next gig there December 6th...
Saturday November 9th 2019... The House of Guinness, Waukesha, WI. Despite cold, snow and ice, I had a great lively crowd of folks who were definitely there to have fun... and we had plenty. The pub continues to improve, since Keith and his brother-in-law Ian became owners. It's busy, friendly and the folks were all joining in, singing and clapping. The time flew by ... and the Belhaven Scottish beer was absolutely delicious! This place is certainly a buzzing destination in the birthplace of Les Paul whose iconic Gibson guitar is featured all through the town.
Friday and Saturday October 25th & 26th 2019... Nolans Irish Pub, Cocoa Beach. Nolans attracts a nice group of people who come along for the music, delicious food and the perfect pint of Guinness. This weekend was no different, we had a fine bunch of singers in both nights and everyone had a great time, me included. I'm back there again December 13 & 14th, the snowbirds will have landed by then - that should be fun
Saturday October 19th 2019... Celtoberfest in Bradenton at the Motorworks brewery. This has become a pretty big festival run by the New World Celts. Celebrating Oktoberfest and Celtic culture on the same day at the same event leads to Kilts, Lederhosen, Stein competitions (including drinking them), festive stalls, games, food, BEER... and plenty music. I played a set at 2pm to kick it off and another at 6:45pm. The crowd was great. Clovers Revenge and the Whiskey Dregs did a great job and we had Bill the bagpipe player entertaining folks on the field too. It was an excellent day and an excellent festival, the storm blowing in from the Gulf of Mexico passed ahead of expectation before the festival and didn't interfere much. The fun continued again on Sunday when the Byrne Brothers joined the lineup - they were great as usual.
Saturday October 12th 2019 in Four Green Fields, Platt Street. Back in the old place, it started as a quiet evening - then it just got busier and busier... I must have sweated a bucket by the end of the gig. Folks were in a great mood and had a ball... it was very nice to be back there. And also nice to meet up with Sean Doyle (the immigrant's son) again who had been playing in the other location. Sean even joined me on Bodrahn at the end. Brilliant!
Friday October 11th 2019 in Four Green Fields Curtis Hixon Park. The waterfront area is very nice... and it's popular, especially when Oktoberfest is on - it was right next to the pub, so it started as a quiet night as people were drawn to Oktoberfest, then as more and more people heard my music belting out of the Four Green Fields, in they came. the numbers grew, the volume rose, the singing and dancing got going... we had a party! It was a nice one
Sunday October 6th 2019 in Celtic Ray, Punta Gorda, apparently I wasn't the only sleepy one there for the 2pm afternoon start... the whole of Punta Gorda was quiet - I had a smaller than normal crowd but they were in good form, singing and clapping away. We were delighted to meet up with Linda Ross (our host when we visit Hawaii) and her friend from years gone by, Casey. It was a hot happy day, I was also playing on the owner Kevin & Laura's birthdays and anniversary - that was fun too!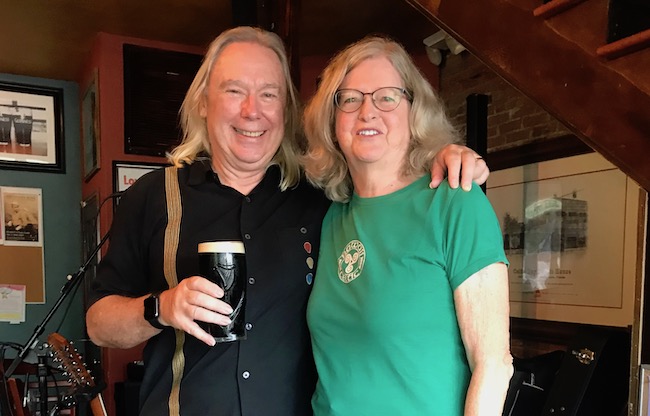 Saturday October 5th 2019 in Flanagans Irish pub in Dunedin. Another 1st time experience in one weekend. I was amazed by Dunedin, the place was buzzing, lots of food, drink and music opportunities. We had stayed there four years ago on our tour of the USA... but never discovered this exciting wee haven! It was a fun night, fine crowd and I enjoyed my first Flanagans. I'm also back again in November
Friday October 4th 2019 at The Cottage Irish Pub in Melbourne, FL. This was my 1st time playing in The Cottage, it's a lovely place. Very friendly and welcoming. It's a building of many nooks and crannies, a large patio out the front and a large beer garden out the back. The food and service was lovely. The weather had been threatening a downpour all week - but relented on Thursday morning and I played all evening in glorious sunshine to begin with then a lovely warm evening up to when I finished at 10pm. The crowd were great, listening and appreciative ... I'll be back in November!
Friday and Saturday Sept 27 & 28th 2019 at Nolans Irish Pub in Cocoa Beach, FL. My 1st time back after my Summer travels, I was very happy to see the familiar faces there and enjoyed their enthusiastic welcome back. Two great nights in a lovely place. I even got volunteers lined up for Burns night there on January 25th... that'll be a great one!
Sunday September 22nd, in the Celtic Ray, Punta Gorda, FL. I do love this afternoon gig, ok, it's hard to get up and get down south on time, but the atmosphere is a nice relaxed Sunday afternoon of music. It started off with fun and joining in right off the bat, people were well engaged and listening, the place got busier and busier and finished right on a high note - Great!! I also confirmed new 2020 dates with them, so I'm all set there until June 2020
Saturday September 21st in the Four Green Fields, Curtis Hixon Park, Tampa, FL. This would have been my mum's 91st Birthday, so I sang her song "and we sang". You can find it on "

Mullen it Over

" The crowd were very good and I enjoyed the evening. I felt like I was getting into the groove of my Florida Circuit again.
Tuesday September 17th, halfway to St Patrick's day celebration in Lynches Irish Pub St Armands Circle, Sarasota, Florida, we had just arrived back from Europe, then a family visit in Wisconsin. We arrived in Florida early in the day, short sleep, loaded the truck then off to Sarasota to this beautiful location - well work a visit if you link seaside, shopping, restaurants, cafes ... and on Sept 17th, Irish music. The New World Celts of Sarasota were instrumental in setting this up and were there to enjoy the evening. It was a great gig and I loved being back playing in Florida.
Sunday September 1st The village Hall in Ugchelen, the Netherlands - and afternoon with Bill. Toon and Gon, the new hosts of the village hall, along with many dedicated volunteers, have rejuventated the place into a very welcoming function place with new bar, great food and wonderful drinks! When we agreed I would play there, I didn't know how many folks would come along, within no-time we had a full venue with people indise and outside on the sunny patio. It was a great day, I played Irish, Scottish, English, American and Dutch songs to an enthusiastic and appreciative audience - it felt good to be back and see many familiar faces from the village where I lived 15 years a good few years ago. Happy people, happy memories - a great afternoon.
Wednesday morning, August 21st in Elgin, Scotland at the Anderson Care Home where Dorothy's Uncle Alex is living. We went up North to Elgin with Dorothy's mum and dad and visited Alex on the Tuesday and Wednesday. Dorothy's mum hadn't seen him since his 90th birthday two years ago, so this was a big occassion for them both. Andersons were holding a 3-day music event in conjunction with the Glasgow University of Art in Fettes. This was a program full of music and entertainment for the residents, their families and local Eligin folks who were happy to join in. The hall was full of people, a great turnout for such an early performance. Many people had come from the surrounding area. From the 1st song, the whole place was filled with song and laughter... it was fantastic. I was so impressed by the organisation, the management, the carers, the students, the local support and the chairman of the board who had enjoyed the performance immensely - he and his managers gave me a nice bottle of local whisky ... and a medal to commemorate the day. Brilliant.
Friday August 16th - it was the Clep bar in Dundee Scotland. Big Tam was in his element, Pat was playing a storm, two ladies from a trio who were just back from appearing at the Edinburgh Fringe sang for us and Mike Ryan joined Pat and I now and again for harmonys. The crowd loved it and were singing along to the good old Scots songs.
Monday afternoon August 12th - in Broughty Ferry near Dundee, Scotland I played a wee concert for the residents of the Orchar care home. It was a pleasure to see their faces light up when they hear the songs for good times in Dundee. We had singing and an Irish dance from Eileen ... lovely afternoon.
Sunday August 4th 2019 at The Celtic Ray Punta Gorda, with weather unstable that afternoon - a typical Florida summers day, I played inside all afternoon. People had travelled good distances to see me and told me they weren't dissapointed, they had a great time. I enjoyed playing my last gig in Florida for a few weeks, brushing up on my Scots songs as the next day we were off to Sunny Scotland!
July 26th & 27th 2019, back in Florida at the Four Green Fields in Hixon Park, Tampa. both nights had a lively crowd of people keep to join in, request songs, laugh and dance the night away. I was a great weekend.
Saturday July 20th was the last Stop in the Oregon Tour - the Portland Highland Games. After a hectic and enjoyable time meeting up with old friends and an early night to get ready for an early start the next day, I was ready to enjoy the day in Gresham. I wasn't disappointed - it was sunny and hot (just as I remember it), the crowd was in a good mood and I met up with musicians from last year, Golden Bough, Biddy on the Bench, and Dram & Go. It was a great time - and (if I'm allowed to say this...) we all did very well. I had a few spots, the main stage before lunch, the VIP tent during lunch and then the wandering minstrel after lunch. I really enjoyed the day and was pleased to see that I'd put a smile on many faces - see the video below.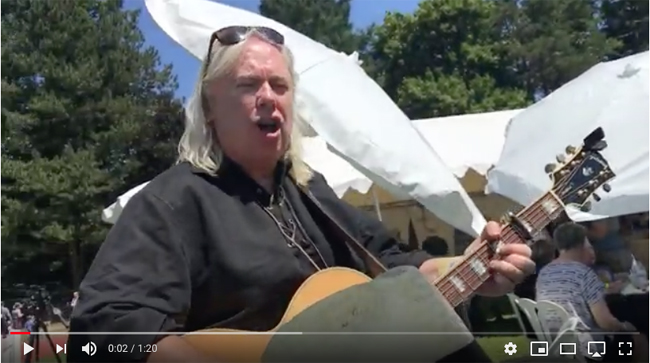 Monday July 15 in TC O'Learys, a nice end to the (extended) weekend. A nice crowd showed up and I even got some time to walk around and talk to them - it was a fun evening and a great welcome back again.
Sunday July 14th at the Garden Vineyards in Hillsboro, Oregon. A warm sunny day, relaxing with a glass of wine and music. A great way to spend a Sunday afternoon. It was well attended and as pleasant a day as I hoped.
Saturday July 13th at The Dullahan in Lake Oswego. The Dullahan is the re-named Mahers Irish pub which in under new ownership. The new owners are making a great number of improvements - so it was really good to see a full patio of people turned out to see me. The tables around the pub were full too - it was great to be back. I played many favourites from the days when I used to play there regularly - all people stayed and sang and clapped... great! The standing ovation at the end was very nice indeed!
Friday July 12th - Mullen Mania in the Feckin Brewery, Oregon City. A great crowd were there to enjoy the haggis, dancers, bagipes and Mullen Mania shenanigans too! It was my first show of the Oregon tour and it was fantastic to see people from Seattle and all over Oregon come along to join it the fun. It was great to be back.
After I'd finished my gigs for the Hawaiian tour, we ended up taking a few days over on the Big Island at the Scullys ranch... which included an (extraordinary) whisky tasting co-hosted by David Reid, Chris Carr and myself. It had seven lovely whiskies!! Excellent! A night of music started after the tasting (mixing 7 whiskies with a performance is not a great idea - but we did well regardless). I enjoyed playing with Chris Carr of the Kiltlifters who graciously supplied me with one of his beautiful Taylor guitars for the performance. Heads were suitably pounding the next day!
During my Hawaiian tour I played in Kelley O'Neils three times and O'Tooles twice - all of them had a great showing from the Celtic community on the Island - thank you to all who came along. I was joined both places by Lisa Gomes on fiddle. Lisa is a joy to play with - she instictively knows what we are about to do and really gets into the swing of the song - a great talent. I was also very pleased to join Lisa on stage with her band Two Irish Hearts, we played a few songs together and I enjoyed every minute.
On Saturday July 22nd 2019, it was an early start (compared to my other shows) and I was ay the Oahu Country club for 10:30am. I was the "program" section of the Caledonian Society of Hawaii's Annual General Meeting. There was a business update, lunch then me. As most of the 40 people attending were of Scottish descent, I picked out historical Scottish events and played the song I associated with it. People enjoyed the storys, the music... you could have heard a pin drop. I had them joining in where I wanted and we rounded it all off with Auld Lang Syne... it was a great way to spend Saturday afternoon... I recieved many compliments, made new friends and heard several new stories.
We arrived in Honolulu on Wednsday July 19th 2019 and were met at the airport by David and Linda, our hosts - they are fantastic and are taking great care of us. My 1st show was at Kelley O'Neil's on Friday July 21st. I was told to start at 6pm... however when I arrived at 4:30pm, the board outside said 5pm. I checked with the bartenders, 5pm... so at 5pm I started my 1st show in Waikiki - woo-hoo! The place filled up well and the party really started when the Celtic crowd all arrived. It was a great start - James McCarthy joined me on stage for a couple of songs too.
Friday and Saturday June 14 & 15 2019 I played at Molly McHugh's a great Irish pub in Lakeland, Florida. As always it's an experience playing there, it's fun, wild, unruly and they love their music - people really let their hair down. On Saturday I played in the waterfront area of Tampa at the Four Green field's Curtis Hixon park location. It has a lot of class, a wee bit trendier than your usual Irish pub, I have always had a fine crowd of people sitting listening and enjoying there. both good events … my last before we hit the road again!
Friday and Saturday June 7th & 8th 2019 in Meehans Irish pub in St Augustine, Florida. St Augustine is pretty much always buzzing with tourists and locals - Meehans attracts a great cross section of both. The food is excellent and the service is great. Quite a few were there especially to see me which is always nice. Both nights were very busy and I played my backside off broke two strings on Friday, replaced all strings on Saturday morning and by the end of Saturday they were all tarnished - who says it's humid in Florida?... no worries, it was great fun and exhausting!!
Saturday June 1st in Celtic Ray, Punta Gorda, FL. It's a 2 hour drive to Punta Gorda from our place and with a 2pm start after a 1am finish on Friday, there wasn't much sleep before we hit the road again. We could see rain clouds over the place as we arrived again, not a great sight when you're on an outdoors stage. It started raining when I was setting up but moved on after about 10 minutes and left the place like a sauna after the water has hit the coals. It was absolutely roasting - one of the reasons I love Florida. The stage, has a roof, so I was fine and the new fans kept me cool... they were however behind me and kept blowing my hair into my mouth while I was singing. The folks who turned out to see me were very appreciative and friendly, we had a fine afternoon together. With about 15 mins to go, I inhaled and the fan behind me managed what it had been trying all afternoon, to get me to swallow my hair... I almost puked mid-song. It then struck me that I got 4 inches cut off my hair after playing there several months ago... time for another visit to the hairdresser?
Molly McHugh's Friday May 31st 2019 in Lakeland, FL. A good old unforecasted Florida downpour greeted us as we arrived in Lakeland, it cooled the place down as the rain sizzled on the roasting hot pavement. Inside Mollys it was cool... and empty when I arrived. Wow, the Florida early summer dip had arrived. I got set up and started with a few more people arriving, then more, then more... it became the Molly's I recognise, fun, busy, noisy, a happy place to enjoy the end of the week. I met Sinn McTavish, the guitarist with Sheryl Crow who was in town to meet up with his daughter, who lives there and has been to see me several times at Mollys. Nice. Sinn and I got along well and boy, he has some great stories. It was a great night!
Friday & Saturday May 17th & 18th 2019. It was a lovely weekend in Nolans Irish pub Cocoa Beach, Florids. A very attentive crowd, willing to join in, sing, clap and listen. Both evenings were concert-like which you don't find in many pubs. People, whether they had come for the music or not, stopped what they were doing, relaxed, listened and enjoyed a great evening... music, entertainment and the perfect pint, it's hard to beat.
Friday & Saturday May 3rd & 4th 2019, brilliant time up in Meehans Irish pub, St Augustine, Floridaboth nights were quite different and varied, from traditional Irish ballads to Scottish rock, from listening quietly to jumping about daft. I enjoyed every minute - it's a great pub with great people too.
Saturday April 20th in Celtic Ray - glorious afternoon in the sun, playing to a good crowd of folks in Punta Gorda, my voice was back to normal and I loved being able to sing and play, not a care in the world... an excellent afternoon. The Celtic Ray is a great place with great people.
Sunday April 14th, 2019 in Celtic Ray in Punta Gorda was a great way to spend a Sunday. The sun was hot, drinks were cold, the Celtic Ray patio stage is very well set up and we had a crowd in celebrating a birthday and another two anniversaries were in the house too. My throat was still recovering , so I just followed my approach for Saturday, dropped the keys and played through again without problem. Folks there had a great afternoon in the sun.
Friday & Saturday April 12 &13, 2019, two Four Green fields in one weekend, Curtis Hixon Park (by the Waterfront) on Friday and Platt Street (the original) on Saturday. Both were good nights with appreciative audiences, but boy, I was under the weather. I had a hay fever attack which was still going strong on Friday. After the 4-hour gig on Friday, my thoat was croaking. On Saturday it hadn't recovered, so I dropped the key of every song down a tone and played though with no real problems. Woo-Hoo!
Monday April 6th, 2019 Monday at Celtic Ray, a fine evening playing on their brand new patio - weather was stunningly good and people were in a great mood - I mixed in a liberal helping of Scottish songs to my Irish song base as my Mother and Father in-Law and Sister in-law were all with us enjoying the lovely Florida evening. It was great to see local familiar faces there in the crowd too... and I picked up another two April bookings from them ... all great stuff!
Saturday April 6th, 2019 - National Tartan day - I played 5pm to 9pm in that great Scottish pub and Grill in Lakewood Ranch, near Bradenton, Florida. It was a hot, sunny day and I was playing outside on the patio. There was a very nice crowd including the Sarasota New World Celts who were co-hosting the event. I was able to play a host of Scottish songs which haven't been aired since Burns night. I enjoyed it very much and was happy to have my Mother-in-law, visiting from Dundee, with me as a happy supporter.
Friday & Saturday March 29 & 30th 2019 in Nolans, Cocoa Beach, Florida. I walked in to a pub filled with people who came out to see me - it was like a homecoming. Lovely. We sang and clapped the evening away in good style. I even had my sister-in-law, Valerie, her son Craig and his girlfriend Louisa in the crowd. Craig and Louisa had just arrived from London, UK the day before and needed to leave - I mentioned them and they got a hearty round of applause as they left... they were amazed at such a friendly crowd.
Friday & Saturday March 22nd & 23rd in Meehans Irish Pub, St Augustine. I was still buzzing from the Paddyfest and thought going back to normal might seem dull after such a fantastic festival. I was wrong, the pub was in full swing both nights and people were well in the mood to have fun. It was extra special as my Mother & Father in-law were there visiting from Dundee, Scotland and my daft Sister-in-Law, Valerie, from Dundee, but living in London was also there... it was a hoot - never a dull weekend!
Friday, Saturday & Sunday March 14, 15, 16 & StPatrick's day 17th 2019 in the all new Paddyfest in Lake Havasu, Arizona. This was an absolutely massive event - the 1st time the festival has run and what a great event it was. I was planned in for 3 days, but arrived early enough on Thursday to play at 3pm and play all four days. -It was nice to get started on one of the quieter days so that I was all set for my next shows. There was an abundance of talent there and it was great to meet some great new folks and catch up again with the Black Donnelys, the Crooked Jacks and the Whiskey Dicks who I know from the Galway Bay festival, Ocean shores. The MC who held it all together was Louise Barry who did a phenomenal job. Hats off to Malcolm Graham for turning his vision of a huge Irish music festival held in a paradise-like location into a reality
Friday & Saturday March 8th & 9th 2019 in Four Green fields, Tampa, Florida another weekend of playing at their waterfront location Friday and the old pub on the Saturday. Both nights were really good and really different. Friday was an earlier crowd - while I was trying to play as many Irish songs as I could for St Patrick's , they were more interested in Scotland and hearing Scottish songs. There was a couple heading to Scotland in June to research their family... in Dundee (both names I know, Abbott & Rae). The lady in another couple (from Boston) was a Burns - so a famous family. Her husband (who claimed he was all Irish) was a Breen! There are Breens in my family. Small world. On Saturday, the Platt Street pub filled when the Bolts Hockey game ened (Bolts won!) - so big celebrations... and a big wedding in the church up the street finished and descented on us too. I was still playing at ten minutes over 1am - a family from Indianna were loving it - said I made their night and wanted me to play up in their Irish pub... watch this space !
Monday March 4th Celtic Ray, Punta Gorda. My 1st outdoor show in the Celtic Ray, they have remodelled the outside and have more than doubled their capacity and added an outside bar. The place was busy, folks were in a good mood, the weather was nice and the beer and music were perfect accompaniment :)
Friday & Saturday March 1st & 2nd 2019 in Molly McHugh's Lakeland Florida. A wild weekend... Spring Break is on us, the Snowbirds have arrived in Florida and St Patrick's season started! Both nights were flowing with groups of people having fun... couldn't get stopped at 1am on Friday, the party was still going!
Friday & Saturday Feb 22nd & 23rd 2019 in Four Green fields, Tampa, Florida. The Friday was in their Waterfront location, Hixton Park - it was my 1st time playing there. Thanks to the Emmigrant's son, Sean Doyle, I had tips on how to set up their sound system and it sounded pretty good. It was a fine night - with lots to people listening and joining in where they felt like it. A very nice night, the 4 hours just slipped by. On Saturday, I was in the Platt street location - which starts later and had a heavy flow of people. It was a riot, I enjoyed the group from Pittsburg, the wedding party, the post-theatre revellers who dropped in. It was a busy, crazy evening & early morning!
Friday & Saturday Feb 8th & 9th 2019, Meehans Irish pub, St Augustine, Florida, both busy nights with Saturday crazy busy. This is a fantastic pub and I enjoy playing there very much.
1st Monday in February, a great night in Celtic Ray, Punta Gorda, Florida. A great crowd of people came, many of them because they knew I was on, brilliant, it was one of those nights where the time flies by, all of a sudden I'm out of time and have had a ball. Back again on March 4th to do it all again.
Weekend January 25 & 26th 2019 Nolans Irish Pub. Burns night is a Scottish celebration of the birth of Robert Burns, Scotland's national poet. It's an event of song, poetry, stories and Scottish culture. It was again, a fantastic evening, bagpipes by Ceallagh were spot-on, the poetry readers were brilliant, the toast to the lads and toast to the lassies was really good, story telling by Dorothy and Valerie was breathtaking... we had a great time... and I did no bad myself. I expected a quiet evening on Saturday as we'd had the Black Donnellys on Thursday, Burns night Friday... and Nolans was full again Saturday - and it was another good one. Exhausted but happy at the end of the weeknd.
Saturday January 12 2019 Afternoon and evening at MacAllister's Grill and Scottish tavern. It was a beautiful day and the New World Celts were holding their annual meeting there, I was booked to play for them and the general crowd at the place. I was on the outside patio and Bradenton, Florida turns out to be a great laid-back place - the patio was full. Mark McPhee was also there with his pipes and we got to play together again. Man, he's a fantastic piper. Everyone was in a great mood and we enjoyed a great time together until it was dark and we were done. Brilliant day out. As an added bonus, I got booked for another gig there on April 6th (Tartan day) - looking forward to playing there again.
Monday January 7th 2019 - first show of the year, first monday of the month (I'm on every 1st Monday up to April 8th (no April fools are we!). I started at 7pm... and it was very busy, not an empty seat in the place! I was playing away and we were all enjoying the evening ... and looking around at the people in the place... they were all wearing Celtic Ray T-shirts! At my break I spoke to Kevin Doyle, the father of the family( who own the pub) and asked if he'd gone into the T-shirt business. On the 1st monday of the month, if you wear your Celtic Ray T-shirt, your 2nd pint is free! Great idea, lots of people, lots of T-shirts... and didn't look like many left after 2 pints.
Saturday December 29th 2018 Molly McHughs Irish pub, Lakeland Florida. The weekend between Christmas and New Year can be strange, you never know how a night will go. This was one of those nights which went from quiet to busy to crazy. A lot of people pub crawling ... and a lot of fun in the pub. It was a blast of a gig to end my 2018!
Weekend December 21 & 22nd 2018 Meehan's Irish pub & Seafood restaurant, St Augustine, Florida. St Augustine around the Christmas holidays is crazy! Christmas trams run constantly through the dazzlingly lit-up historical streets crammed with happy people having fun. The pubs do a roaring trades and people are happy to roar too! A very busy happy weekend in Meehans was just the job to get us in the Christmas spirit.
Weekend December 7 & 8 2018 - back in Nolan's Irish pub, Cocoa Beach, Florida. Always a great welcome there and many groups of people had shown up to see / hear me again. Great. I'd made a sneaky arrangement with Stere Harper, we'd met at Phoenix airport in May. He used to play in a folk band and wanted to surprise his wife Jeannie. I asked Steve to come on stage and I introduced him saying that I'd like to play a song with him - then we both started "Jean", his wife was amazed. She had no idea we'd been in touch and exchanged song files, words and arrangements - her face was a picture !! And we did a fine job of the song too! The Saturday was a great evening too - it's a great pub.
WeekendFriday November 30 & Dec 1st - back in Florida and playing in that great Irish pub, the Four Green Fields. Recovering from a cold I picked up in Europe, I wasn't feeling too great but as soon as Friday got underway and the crowds came flocking in, all germs were zapped by musical energy ... the place was hopping. It was as busy at 1am as I've seen it - a sneaky St Patricks night!
Saturday November 17th 2018 at the Café Back in Town, Ugchelen, the Netherlands. Playing at the reunion for Apple who had a distribution center there until 1998. A great bunch of people having a lot of fun - truly an evening to remember. People came from Australia, USA, Ireland, Holland... we had a ball!
Friday October 26th, 2018. The Clep Bar Dundee, Scotland. Enjoying being back in my home town, so much has changed - it has a definite "buzz" again... and the people haven't changed, they are still down-to-earth, friendly, welcoming folks. The show was a a great night and a pleasure to be playing together with my ex-band mate from years ago, Pat Ferrie. It was marvelous to see so many friends, relatives, Clep regulars - all good folk just out for some fun. Looking forward to next year's gig there already.
Wednesday October 24th in the Orchar care home in Broughty Ferry, Dundee, Scotland. I make a point of playing there when I'm back for a visit. The guests are all very receptive and appreciative... and they know all my Scottish songs! It was a lovely afternoon of music in their nice common room overlooking the river Tay.
Saturday October 13th 2018 - my first appearance for the New Age Celts of Sarasota playing at the Motorworks brewery in Bradenton, Florida. I played the 4:30 to 6pm slot and was accompanied byPiper Mark McPhee - he played a storm. He is a truly great piper. We played a few songs together ... and we were even in tune (not always a given when playing with a piper). Our set went great and I'm looking forward to playing more for the Celts when I return to Florida in November.
Friday October 6th Back at Molly McHugh's in Lakeland, Florida. It was a great welcome back - right from the 1st song folks were joining in enthusiastically - brilliant. The four hour gig flew by as if it was two hours, lots of fun and a great bunch of folks working there too... it was nice to be back.
Friday& Saturday Sept 28 & 29 - Meehans Irish pub & Seafood house in St Augustime, Florida. It's been 3 and a half years since I played Meehans. At that time I was on my first trip around the USA and we spent three weeks in the area and I played the week of St Patrick's day - each day was different and a lot of fun. It hasn't really changed, yes, the stage is in a different place, but the atmosphere, the high spirits and fun-loving crowd are still the same. The crowd turns over several times in an evening and it was as busy at midnight as it was when I started at 9pm... St Augustine is a party town! I had many people tell me how much they enjoyed the evening and am welcome back for repeat gigs - watch this space - I'll be back!
Friday & Saturday Sept 21 & 22nd back in Florida after 4 months up North / West it was great to be back and we met several people who came especially for us - a couple we met at Phoenix airport and another couple who just love to sing - as they sing really well... and of course Gillian (& kids) and our friends from the Celtic & Nordic society... brilliant! It felt like a homecoming. On Saturday I was on after the Byrne Brothers, a very talented Irish father and kids show - they were very good and had a packed crowd for the afternoon. So everyone was well warmed (and Guinnessed) up by the time I took the stage. Another fine evening in Nolans. It's great to be back
Saturday August 11 Back in JJ McAuliffe's pub in Racine, Wisconsin. It was a lovely evening, my daughter Valerie was over from Scotland visiting and the appreciative crowd were thoroughly enjoying themselves. It was great to wander around afterwards and talk to the folks who recognised sentiments in my songs ( I had played quite a few of my own songs) and were touched by them. I had a good chat with JJ, he's a fine lad and does a lot for Scottish and Irish music in Wisconsin. Just two weeks after my gig, he had the Red Hot Chilli pipers playing there... they fill stadiums and don't play pubs - unless it's JJ's
Saturday July 21 2018 - I had played a very enjoyable private birthday party the day before (it was brilliant Michelle!) ... and admirably managed to leave right after I finished playing as the next day I was on stage at the Portland Highland games at 10:30am. There was a good crowd there for my 1st set and we had a good time... and I sold a lot of CDs (hooray!). Then it was off to the VIP tent for a noon show. This was excellent - playing for a vey appreciative crowd. I was so well recieved there, by the end of it I was invited for a weekend playing and fun, given beer (more than a few - woo-hoo!) , food and told by a head sponsor that he would insist on me being back in 2019. Best of all was being singled out by one of the VIPs and told that I had "made the games for him" he was emotional and sincere. It took me back a bit as he was in the VIP tent watching excellent pipers, surrounded by fine entertainment ... and yet it was me who made his day. This was a fine reminder of why I do this. He made my day too. Later in the afternoon, I did a spell as "wandering minstrel". I sang for people here there and everywhere, some harmonised with me, others chatted afterwards, I sold CDs and everyone walked off happy... what a grand day. On the Sunday I ended my Pacific Northwest visit and headed for the midwest. Goodbye Portland for this year... I'll be back.
Sunday July 15 2018 at Garden Vineyards in Hillsboro, Oregon, its hard to find a more beautiful place to play ... and it was hot!! Playing on the patio at 98 degrees F was a big change from playing in Dundee, Scotland! It was great to have wine club folks and my loyal support come out and join me there with a great wine selection... we certainly enjoyed the afternoon. When I finished playing, I looked like I'd fallen in a river!
Saturday July 14 2018 At the Bethany pub, it was a fine night playing - a warm Portland Saturday is a good beer drinking and music time.
Friday July 13th - Mullen Mania at the Feckin brewery. It was a fantastic event ... the place was full and folks loved the music and fun - a truly great night - as good if not better than expectations. The Scottish dancers were excellent, the pipers were great and produced the desired atmosphere, the haggis was delicious getting a huge thumbs up from everyone - even the sceptics! ... and the Feckin beer had us all hooting and hollering!
Monday July 9th 2018. T C O'Leary's is a great wee Irish pub in Portland. I had a nice group of folks come along to see me and we enjoyed a good 2 hours of music, great food and very tasty beer - it's well worth a visit if you're in town.
Saturday July 7th 2018 - Mahers Irish pub, Lake Oswego, OR . Nice to be back in the pub where I started in the USA (I actually started in the wee Mahers pub along the road... but this one's nicer than that). It was a beautiful evening on the Mahers patio. I had a great crowd of people who follow me and came to see the show and we all had a great time. The evening flew by as usual when I'm there, sold a few CDs and I hope I managed to talk to all my folks!
Friday July 6th 2018 - a good friend, Fergus Nolan has built a pub in his basement... and as Fergus says, an Irish pub isn't an Irish pub until Bill Mullen has played there. Well I did... actually I needed to play in the marquee outside the pub as we couldn't all fit in it. My pal Tony Mills supplied the PA system (sounds great too) and I'll have that with me for the rest of this trip. It was a great night ... a tender head in the morning and England beat Sweden in the World cup...
We arrived in Portland, Oregon June 26th 2018 - great flight on Air Alaska by the way- they handled my guitar with great care - that's nice! Then it was up to Ocean Shores, WA on Friday for a weekend playing at the Galway Bay Irish pub & restaurant. There was a very good turnout and a lot of my people were there to see me. I enjoyed playing the show a lot and managed to get caught up with everyone there. I'll miss the festival this year as I'll be in Scotland - hopefully I'll be on the program in 2019.
I played my last show of this trip to Wisconsin in Waukesha at the House of Guinness. The name doesn't do the place justice, yes it has Guinness, but it also has Scottish beer (Belhaven), English beer (Boddingtons) and a huge selection of other great beers including of course, some delicious local craft beers. I knew I'd like this place as they also run a whisky school! There were a fine lot of people who came especially to see me and I got on really well with the locals there too - a fine night, great pub - well worth a visit!
We arrived in Wisconsin and ware happy to spend a lot of baby time with our new Granddaughter, Cora. Then two weeks in a row Friday shows in Racine at McAuliffe's pub
(June 8th & 15th 2018) . The pub hosts many bands big and small so the crowd are used to attending concert style - so not your normal pub crowd. We had two happy nights there and enjoyed meeting the people. CD sales were good and JJ McAuliffe has asked me back for another show before we leave Wisconsin... watch this space for details!
Thursday night at Nolans Irish Pub in Cocoa Beach, Florida, my last show in Florida for this season. It was a fine happy evening and a farewell - for now. I will be back there on Sept 21 & 22
Thursday night at Molly McHughs April 26 in Lakeland. I had great support from James Fulton and his gang, James has some powerful voice and used to play with the "Chanty Wrastlers" That was my last gig there until I return at the end of the summer.
A quiet weekend kept clear for the arrival of my 1st granddaughter in Wisconsin - I expected to be up there, hower as she was born a whole month early, I was free on April 20 when the phone rang and Johnny Nolan needed a musician for that night. We dashed ther and got set up just in time for me to start at 7pm... which turned out to be 30 minutes early ! Next time I should check. Like many unexpected events - it was a great night with people surprised to see me there and some great singers joining in, harmonies as well... brilliant.
Four Green Fields, Tampa, Friday and Saturday 13 & 14 April. This is a great pub, truly Irish, good locals and a varied crowd. Friday was quieter than normal, but Saturday was quiet, busy, quiet, busy... that means ballad, fast song, ballad, fast song... plenty of opportunity to play all me repertoire :) Nice to see the corner gang again.
Molly McHugh's Lakeland - Friday April 6, it was Tartan Day 2018, first Friday of the month - so a very busy Lakeland. The crowd started fairly laid back, joining in and enjoying the music and atmosphere of this authentic Irish pub... and got wilder and wilder as the night progressed. That was a night to remember - brilliant!
Celtic Ray, Punta Gorda April 1st. No April fool - this is a great pub... a national finalist for the best fish & chips, a real Irish pub, no TV and people who like their Irish (and Scottish) music. I had a fine night and had fun with a happy crowd. This was my 1st gig after a family week in Wisconsin -the Florida weather was lovely and hot... and my new baby granddaughter in Wisconsin was fresh on my mind.
Four Green Fields, Tampa Florida, March 23 & 24. It was great to be back, it had been a year since I played there. It was still a lot of fun. I had a laugh with Hugh Welan, the Godfather of the pub, who joined me on stage to sing "Little Blue Lady" with full kazoo accompaniment!!
St Patrick's Day at Nolan's Irish Pub, Cocoa Beach, Florida - it was a blast - check out the video
The Common Grounds meeting place, Thursday March 1st North Port, Florida, a small concert, broadcast worldwide on radio, an enthusiastic crowd including a number of Dorothy's family who were in town visiting us... it was a great night - I laughed a lot at the antics of my daft relatives. That was the last of my series of shows there for this visit.
Nolans Irish Pub, Cocoa Beach, FL Thursday February 15th. A nice sunny Thursday, the session band had everybody warmed up, the pub filled up by 7:30pm and off we went - people singing, joining in, laughing... the time flew by and my brother, Doug who was enjoying his last night in Florida for this year went off happy to have experienced another great Nolan's night.
Molly McHugh's Jan 9 & 10 - Lakeland, Florida, was buzzing. There was a Mardi Gras celebration in town and people made their way from pub to pub enjoying the warm Florida evening and the variety of music available. Molly's is a very friendly pub with a very mixed and varied crowd - with one thing in common - they are all having a great time. It was a great weekend with so many people around... we all had a ball.
Burns night (January 25th) at Nolans has become a bit of a tradition since I did the first one in 2015 - each one has been different and this was, again, a fantastic, richly Scottish experience. This year I had no bagpiper volunteers, so I dusted off my pipes and kicked it all off with Scorland the Brave as I piped in the "Florida Haggis"- it went really well. We had 6 poetry readers, 3 people from the Celtic / Nordic society, John Nolan, Dorothy and the lovely Gillian Fannon from Bannockburn. They all did a great job. We had a fun-filled toast to the Lassies from my friend Steve from Portland, OR and the reply from the Lassies was from his wife Jane Fellows, a marvelous actor we've seen perform in Oregon, she blew us away with her Shakespeare's Macbeth meets Robert Burns. I played,addressed the Haggis and did the "Immortal Memory". Everyone - and I mean everyone - sang to the 1st song, Loch Lomond and that set the scene for the whole evening - the pub was nice and full, everyone had a great time and I was delighted - another cracking Burns night!
My 1st show in Molly McHughes was on January 19th 2018. It is a big Irish pub in Lakeland, Florida with plenty of space and cozy at the same time. I was without a doubt the oldest there and the crowd took to my songs immediately. They were singing, clapping, listening... and talking, drinking and enjoying themselves. It was a very happy crowd who mingled well with each other, chatted, laughed and watched no TV... as there wasn't one anywhere. Young people were out having a great time... and were still going strong at 1am when I finished (with an encore). Lakeland too is a really nice place to go out - a good discovery.
It was back to Cocoa Beach for the weekend, January 12 & 13th 2018. A very big, enthusiastic crowd came along on the Friday and a smaller but no-less enthusiastic crowd on the Saturday, I met many new people and re-established acquaintances from years past. It was also nice to see the Atlantic ocean from the USA side again.
Happy New Year - it's 2018 and I started off with a Hogmany Radio Concert in North Port, Florida, here is a wee video they filmed.
December 14 and 28th found me back in Nolans at Cocoa Beach, FL, the 14th was quieter than the 28th but both evenings were attended by a great listening crowd - keen on music and keen to participate... It's a fine pub and a pleasure to be playing there again.
We drove the huskies hard until we escaped the biting winds of Washington and Oregon, Hitched up the wagons to cross the burnt State of California, then through the parched deserts of Arizona and New Mexico... anyway shortly after we passed the fields of cotton... we arrived in Florida. It took a wee while to settle in, then I played my 1st gig of the Winter season in the Celtic Ray Irish pub and restaurant in Punta Gorda It had become December!
The Celtic Ray is a very fine pub... there was something different about it - which was proudly pointed out by the owner, Kevin... there is no television anywhere. In his words, I only wanted to hear the sound of laughter, music and chatter - people communicating with each other... then a barman dropped a glass and he laughs "yes and the sound of broken tumblers". I played two solid sets, people had a lot of fun, they payed me, gave me beer and food and asked me to play again in April... fine result for a fine evening. The band who were on after me "" were brilliant - weird (in a great way) - but well worth checking them out.
Just one wee show before heading off on Monday Nov 30th- that was the intent of my last Portland gig, my 1st time in T C O'leary's. It's a small, traditional Irish pub with great beer and excellent food. Crowds of Mullen followers came flowing in for one last party ... and we just had a ball. I felt so good... I was still buzzing from the Galway Bay festival and just loved that last show with so many good fine people / friends all there singing my songs... fantastic. I was also delighted when David and Linda (our Hawaiian friends (and hosts when we were there in March this year) showed up too... and joined in - big time! A great way to end the summer season in the Pacific North West.
The Galway Bay Celtic Festival, Ocean Shores, WA. This is a huge event, well organised and well attended by public (sold out early) and performers. I was joined by Lisa Gomes, fiddle player who I met while in Hawaii. I have played with Lisa in during my visits in 2016 & 17 - she is excellent, a joy to play with. We also have that musicians bond where you just know what the other is about to do... it was a real pleasure to have her play with me at the festival. We played 11 shows from Tuesday through Friday, each one was different and a lot of fun - playing for happy enthusiastic people is just the best thing you can do. A big thank you to Showell and Nancy for putting us up on the Friday night - regardless of my condition after the Hawaiian after-party !!
Feckin Irish Brewing Oct 13th - a brilliant evening of music, beer and fun. There was a great crowd and I introduced their new beer "Dias de los Muertos" ... wow - that was amazing - a black porter with coffee, horchata, cinnamon and whiskey!! It was as smooth as silk and just gorgeous! The crowd was in the mood to party and we sang the night away. With the new tap room, the brewery has really opened up and stepped up a notch, the smokehouse food was delicious too.
Mahers - the last of the Summer patio - Sept 15, the place started to fill up from 5pm, there were so many people came along to welcome us back. Very nice to see everyone, it was just like old times.
This has been the year for private parties - Sept 9 - I felt very specially honored as you can see by the little goodie boxes below
Wisconsin September 2nd and another chance to celebrate my son's wedding for those who didn't make it to the first one - it was an absolute blast - a great day with great people
"Bill is Back" in Portland - the Feckin Brewery was a lively place on Aug 25th as I was royally welcomed back in the Brewery. The Taproom has had a facelift and there's smokehouse food on the menu - the atmosphere was great and the time shot past - what a great night.
Private parties are a log of fun and I am playing a few of them this year. My first in Washington was at Eric and Tanyas - they set up their garden like a pro set and invited a lot of great people who really enjoyed the evening. The bangers and mash with Laphroaig also went down a treat!
Back in the Pacific Northwest, it was up to Ocean Shores, WA for a weekend at the Galway bay Irish pub and restaurant. Thank you to all the people who showed up especially for me, I was very happy to see you all again, it made me feel like I was home again.
It's always a pleasure and honor to play for the residents of the Orchar old folks fome in Broughty Ferry Dundee. This time was as good as usual, attracting residents who don't normally attend the music sessions. A very nice afternoon.
Balgay Bowling Club, Dundee Scotland July 8th. On my last visit to Dundee Bill Stewart and his fellow Dundee bowlers were at the Clep where I was playing and decided to hire me for their Summer music night. So it was booked way in advance and seemed a bit unreal that I was now in Dundee playing to a prety full hall all having a great time at great bar prices! It was a great night - and I'm being booked again on my next Scotland trip
The best Birthday of them all - Dorothy, my wife turned 60 this year, here's a wee tribute to her
Birthday season in the Netherlands. While in the Netherlands I was happy to play for Tiny, Mary, Monique and Eimert and Jennifer on their big birthday occasions - 4 birthday parties on the one trip - I think that's my record.
I was booked through a friend to play way up in the North of the Netherlands in Groningen on June 30th at O`Ceallaigh Irish Pub. Groningen is a lovely city which feels like a village and the pub is a beautiful old building, friendly crowd and the owner, Peter Kelly is a great guy. The torrential rain dampened some peoples wish to come out - but we had a good enough crowd and all enjoyed a fine night together.
I played in Mahers Irish pub in Lake Oswego, OR April 21 to a packed in crowd. They were all out to have a great time. It was wonderful - I know so many people there - and know what songs they like. I was meant to stop at 11pm but I tortured them until 11:30 to get through all their favorites - ha-ha! That'll teach'em. I did like the standing ovation though...
I also played in the Bethany Public House in Portland, OR April 22 to a big crowd of folks who happen to like what I do - again, the reception was first class. I do love coming back to a place I've enjoyed playing and seeing people there who were there last time. It's even better when they wave goodbye promising to be there again when I'm back. I played so long Michelle (yes you) got tired ... I left the stage sweaty, happy - and needing my Feckin beer !
Hawaii... for St Patrick's season (March 12 to 20) - it was pretty good. So many fine people came along for my shows and St Patrick's day was unbelievable, O'Toole's is part of the block party at Downtown Honolulu. People were standing elbow to elbow, singing, dancing in huge numbers. You need to experience that! Here is a wee video taken through the day. On my last gig I was joined on stage by Lisa Hancock Gomes on fiddle and Patrick McGivern on harmonica - it was a blast!! Till next time!
The Common Ground Meeting Hall, North Port, Florida - Thursday February 16th 2017. It was in a small intimate 60 seater hall with a stage and great sound system linked through to a control room at the back where it was connected to the live radio broadcast station of KDW Radio. RJ Malloy is the station master and the host for the evening was Bud Buckley. I had a small but enthusiastic crowd in the hall and 836 people listening to the on-line stream - that was very cool. I really enjoyed it and the two hours went by in a flash. They want me back - so next time I will work in a facebook message stream to hear from the folks listening at home... that will be early 2018... watch this space! Here's a pic of me and R.J. Malloy
Friday and Saturday February 3rd & 4th were my last nights at Nolans Irish Pub, Cocoa Beach Florida until the end of this year. It was a great weekend of playing and enjoying great crowd participation.
Burns Night at Nolans, Cocoa Beach, Florida. A real Scottish night of poetry and song to celebrate the birth of Robert Burns, our national poet. We had the immortal memory from Joe McColligan, Scottish fun from Jay McClure, to the Laddies and response from the Lassies by Fran and Debbie Reid, Burns readings from Gillian Fannin and Dorothy Mullen. We also added a bit of Irish flair from Siobhan Denecour and Dr Dennis Sommers from Trinity College, Dublin. The haggis was piped in by Ceallagh Dobson and yours truly addressed the haggis and played all the music - it was a full house with great participation from all - what a Wednesday !
Four Green Fields, Tampa, Florida Friday & Saturday January 20th & 21st. My 1st appearance in the Four Green Fields - and it was as good as its reputation. I was accepted into the fold of "the corner gang" and made to feel very welcome. The Friday was more riotous than the Saturday - but both days people were listening and appreciative of the music I played - nice, hoping to be back at the end of the year.
Nolans Irish pub 13th, 14th & 19th January. After the cold (including cold germs) of Scotland and the Netherlands it was lovely to be back in the Florida warmth. Made all the better for the warm welcome I received on my return to Nolan's Irish pub in Cocoa Beach. The people are great, the staff are great, the guinness is great and I enjoyed all three evenings there.
Café Back in Town, Ugchelen, Netherlands Friday January 6th was great - we had a really good turnout of people despite the bad weather and storm warnings . I did the NL launch of my new album "Mullen it Over" playing songs from the album and some old favourites. This short taste of the album turned into a 3 1/2 hour party. I really enjoyed seeing the Dutch crew again... and singing my two Dutch songs.
Freddys bar, Ugchelen, Netherlands Dec 31st - old year / new year party - the best party in town. Started at 11:30pm, champagne with the ringing in of the New Year, Fireworks for an hour then sing the morning away. Country singer Antoinette Hommerson and new Talent Maggie Doedens played sets and shared a nice show - great start to the new year
Broughty Ferry, Scotland Orchar December 27th - a lovely afternoon with the Winter sun blazing through the windows into the common room where I entertained the elderly residents with some old Scottish songs, it was a great success brightening the lives of people through music they love. It makes it all worth while.
Wellburn, Lochee, Scotland December 23rd a wee concert in the nursing home where my mum ended her days. Nice to see the happy faces beaming when they sing along to their old favourites. My pal Bill O'Rourke who plays there regularly has been playing one of my songs for them, it was a real delight to see that they knew the chorus and were singing along - brilliant.
Scotland, Dundee - the Clep Bar December 16th, it was a pleasure to be back in the Clep and see many people who have become friends over the years I've played there. I enjoyed playing with my pal Pat Ferrie and having a great laugh with Big Tam and the crew.
Galway Bay Celtic Festival Oct 18 to 22nd was fantastic, 30+ bands/ musical acts on 10 stages Friday Oct 18th to 23rd - fantastic time. It was a great event. I played nine one hour sets over four days. Many of the same people came to each show - which made my decision not to repeat songs this year a good one. I managed to play 7 hours of material without repeating songs... a change from my first solo appearance years ago where I only knew the words to eight songs. My new original songs went down really well
October 14 - wow ! - this was my farewell to Oregon for this year. It was standing room only at Mahers Irish pub in Lake Oswego. It was a fantastic evening - so many people came out for the show on a truly horrible rainy Oregon evening - we had a fabulous time!
I played a night at the Feckin Brewery, Oregon City October 8th. This was my 2nd last Portland, OR performance - we had a nice turnout of Bill Mullen followers - it was great, lots of Feckin beer (sung and drank) and a great night.
Suffering a bit from the first cold I've had in three years, but as soon as I was on stage it all came together well. Very receptive audience at the Galway Bay and great CD sales - both evenings were good going crowds, staff as usual were first class - and it was sunny on Sunday morning to blow the cobwebs away - what more could you ask? A great weekend - looking forward to the festival there this year.
Sunday September 18th - wow what a day. I had been preparing and planning the "Mullen It Over" album release for ages - and the time had come. We had over 70 people at the Feckin Brewery in Oregon City. I told stories about the songs and played them all throughout the day. It was very well received and I was so happy and relieved to have sucessfully launched it. Watch the video here !
Saturday July 23rd - The Bethany pub was jumping- again ! We packed out the back room where I was playing and had a ball. I was amazed when one man requested the song "One Feckin Beer" It's on my new album - and I've only played it 4 times live - the 2nd time was last year in the Bethany pub - and he remembered it! How good is that?! It was also Dorothy's birthday - she had a great time (unexpected as she thought she would be the sober one for driving... Billy was a good boy, only had one Feckin beer and drove home!)
Saturday July 16th - Portland Highland Games, was a great day, cooler (temperature) than normal but always a great event. My 9am spot was too early to be busy - but still had enough people to get me set up for the day. My next session was at 11am on the North field, it had filled up well and the crowd got quickly in the mood. The 2pm slot was a lot of fun, lots of people, lots of joining in and great CD sales ! I was the wandering troubador in the VIP tent, British Tea tent and around the running track - it was fun to do and brightened up a lot of people.
Kells - my 1st Friday night there, 9pm to 1 am Friday July 15th, The pub was crazy busy at times and good busy at others - I had the crowd going on the 1st song and kept up the pace for most of the evening - a great night.. hard work and not much sleep before the Portland Highland Games... pretty hard core for an auld mannie.
Sunday July 10th ('16) at was my first appearance in O'Neils, Portland, OR (formerly Biddy McGraws). It was a sort of pub concert where I played some old favourites, some good but lesser known songs I do, took requests and played five new (original) songs from my album which I'm still finishing. There was a nice turnout and we had a lot of fun. The new songs went down really, really well - great! Thanks to all who came along - it was great to see you there.
Return to Mahers Irish pub, Lake Oswego was Friday July 8th ('16) the weather forced this to be an inside gig - it was packed, hot and rowdy - a great night. Brilliant to see the crew again.
Back in the Pacific Northwest, my first gigs were up in the Galway Bay Irish pub at Ocean Shores, July 1, 2 & 3 ('16) . What a great place that is, fine food, lovely stage and great people. I enjoyed being back there there, there's a small video
Las Vegas May 14 '16 - Mark & Heidi Maher's Wedding - after Elvis did his job it was over to me - great, totally different wedding! The Mahers know how to party!
The Clep Bar Dundee, Scotland, (April 23 '16) a cracker of a night - the Clep is usually pretty good - this one got better and better as the night went on
My last weekend (April 8 & 9 '16) in Cocoa Beach, Florida was very nice, we'd a great crowd in Nolans all in a great mood singing and clapping a nice end to the first half of this years USA trip, now for a few weeks in Scotland before heading North and West again.
St Patricks long weekend was great at Nolans in Cocoa Beach, Florida, there was a good selection of music, dancers, pipers, food and drink! Theres a short summary below - have a click and get a feeling for the celebration.
Rea
New Orleans (Feb 26 & 27 '16) was brilliant - it was great to meet up with Chef Matt Murphy again. I was the headline act in in his New Orleans Celtic festival at the Irish House in St Charles Avenue. On the Friday I played a concert to an appreciative dinner crowd in the banquet room and on the Saturday I was in the downstairs restaurant with a happy crowd of singing, clapping revellers - we had a ball.
Read my interview with Sharon Armstrong of WWOZ for the New Orleans Celtic festival
The Highlander in San Antonio (Feb 19 & 20 '16). Great to be back there again and played two good nights. It's a lively place with a friendly bunch of people. I met the family of the owner who all came to hear me on the Saturday... and buy more CDs as they'd gifted the ones they bought last time. Nice. We also had a visit from the Jameson man... he was bearing delicious gifts !!
Hololulu, Hawaii (Jan 25 to Feb 8 '16) wow - that was a blast! The place is so beautiful. It was our 1st time on Oahu. I played in Kelley O'Neil's and O'Toole's twice each. The Celtic music crowd there were really good - great support, showing up for gigs, clapping, singing and dancing. I also ran a Whisky tasting - we had about 30 people there - all dedicated whisky drinkers! It went great - the after drink with Bill Comerford was great too
Our time in San Diego (Jan '16) was fantastic - I loved my gigs in the Field, they were all good - the last one especially, what a great cowd... for a Wednesday! I met great new friends and I've been writing an album of my original songs that I plan to record in the Summer - It's coming on great - I'm enjoying putting this together.
My farewell to Europe gig was in the Café Back in Town in Ugchelen, the Netherlands on December 4th. The place was buzzing - I got to sing my only two Dutch songs, play my Dutch guitar and use my old Bose pro PA system - a great night. Lots of happy faces, old friends, family and new faces - some who stayed the whole night after hearing my sound check 3 hours earlier... Nice!
The Dundee Clep (Nov 20 '15)was a fine gig with my pal, Pat Ferrie. It was great to see the crowd again and hear some new & old talent perform during our breaks.
I had a wee break (Nov '15) in Dundee, Scotland and am now recovering from a very heavy bout of Birthday Party - I also played two one hour shows at local nursing homes, always a very nice experience playing there
I Played 3 days (Oct 21 to 23 '15) at the Galway Bay Irish Festival at the end of October it it is an incredible indoor festival which sold out quickly - there were 30+ bands playing on 10 stages - it was a real blast! I picked up more dates, new fans, sold CDs and am booked again for next year's festival in 2016... pretty good... I even played well - there's a bonus :)
Great Feature - - You can see my newsletter updates here (also in the sidebar)
Quote from Chef Matt Murphy, owner of the Irish House, New Orleans (Nov 2014) "Bill played here this weekend and took the roof off the pub"
Video from 67 Music - Mahers Sept 12th - Thanks Steve Behrens!
Video - watch my last performance of 2014 at Mahers Lake Oswego on Sept 12
Video - I appeared at the Pirates Party in Bend Oregon, Sept 17th
My music keeps getting played on Maui Celtic Radio - who would have imagined that!
Check out the Interview and Video from Steve Behrens of 67 Music, see